Hockey Goalies - A Breed Apart
The great Jacques Plante summed it up this way, "Imagine sitting at your desk. You make a mistake. A red light goes on behind you, a siren starts sounding and 18,000 people are yelling at you. That's what it's like to be a goaltender."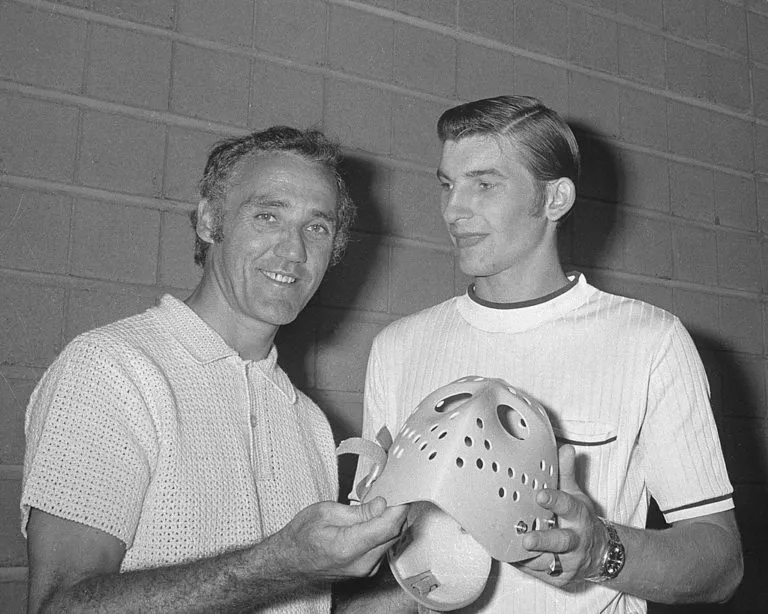 Hockey goalies are a different breed, especially those who played before 1959, when there were no masks and they wore minimal body protection. They were a little mental to put themselves in front of a net and stop pucks that could've killed them. With today's advances in the design and production of equipment, the fear of getting hurt has all but vanished.
Still, there's a belief that goalies are special breed. They're often thought to be on the outside of society's cusp of normalcy, barely holding things together while ready to completely snap at any moment. They're weird creatures of habit with wacky superstitions and bizarre game-day routines.
The Lure of Goaltending
For some, the high of denying other people the opportunity to score goals far outweighs the lure of scoring.
Mental Toughness
While most of a goalie's preparation is physical, come game time, it's all mental.
It takes an unusual amount of mental fortitude to stand in front of speeding pucks and cope with the fact that they are the last line of defense. If a forward or defenseman has a bad night, his teammates can likely cover for him–his mistakes may not lead to goals or cause his team to lose the game. But if a goalie has a bad night, his mistakes often mean the game is lost. That's a lot of pressure and guilt to carry when things go wrong.
For the Gear Obsessed
Goaltenders prize their extensive equipment. A brand new set of pads or a freshly painted mask will produce the excitement of a 12 year old on Christmas morning. Goalies covet their gear like Gollum covets The Ring.
Others who handle or move their equipment on game day is likely to produce a Hannibal Lecter-like response.
Students of the Game
Standing in the crease, goalies have a view of the game like no other player on the team. They can see every detail unfold in front of them. As students of the game, they can identify opposing players simply from the shape of the stick blade. They get to know which players are likely to shoot and which will make the extra pass.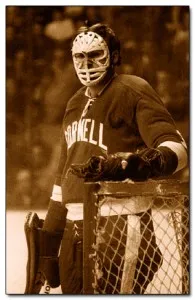 They pick up on everything – even if a slumping opposition player has changed the way he tapes his stick. Goalies know which rinks have lively boards and recognize how that may factor into the game. They take all this information and prepare themselves physically in practice so that come game time their reactions will be automatic and smooth.
The Craziest of Crazy Goalies
It's more strange to find a goalie who isn't weird than it is to find one who is. There have been many memorable goalies in the NHL with bizarre personalities, pre-game rituals and superstitions. The following stand out as the wackiest:
Jacques Plante
Jacques Plante, one of only 38 Hockey Hall of Fame goalies, was as quirky as they come. On road trips to Toronto, he flat out refused to stay at the team's hotel (The Royal York) because he was convinced that a cleanser they used brought on asthma attacks.
In a game against the New York Rangers at Madison Square Garden on November 1, 1959, Plante was cut badly by a nose-smashing shot to the face by Rangers forward Andy Bathgate, their hardest shooting forward. Plante crumbled to the ice in a pool of blood.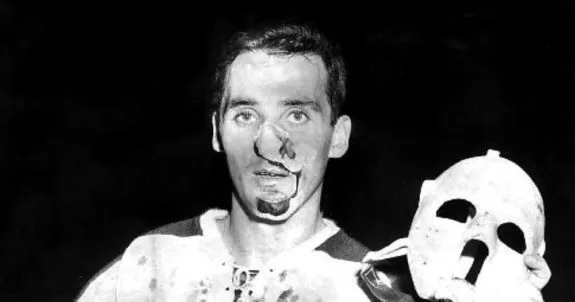 "It opened up a cut from the corner of his mouth all the way up through his nostril," said Red Fisher, legendary hockey writer. "Try and imagine that — the pain that he was going through."
Fisher rushed to the dressing room to find Plante looking in the mirror.
"Pretty ugly," said Plante.
"Yeah, well you had a good start, Jacques," said Fisher as Plante laid down on the table for stitches.
Unbelievably, Plante returned to the game wearing a mask. The crowd wildly applauded and the Canadiens won the game 3-1.
Plante decided to wear a face mask from that point on and is credited with introducing it to modern goaltending. Montreal head coach, Toe Blake, initially turned down Plante's request to wear the mask during games for fear it would impair his vision and make him puck shy.
After 11 seasons in Montreal, he was traded to the New York Rangers. There, he loved to stroll around the city, visiting its college campuses where he'd say he was 'absorbing knowledge.'